Beauty Will Save the World
DONALD O'DONOVAN
Los Angeles
I went to the blood bank on Florence. They pay forty-five dollars for Type O. That's what I've got, Type O, the universal blood type, regular unleaded. Wouldn't you know it? Even my blood is ordinary. A common soldier all the way!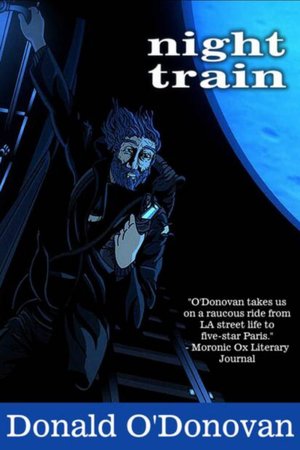 I sat on a padded table. My nurse was Nastasia, a smashing girl. She had a tattoo on her left wrist that read, Beauty will save the world. She wiped my arm with an alcohol swab and found a vein right away. A little pinprick and I watched the bag fill up with nice red blood. It didn't take long. She asked me if I felt dizzy. I was dizzy from her perfume, yes! She told me to lie on the table and relax. She went away and came back with cookies and lemonade. She pulled the curtains around us. "You sure you feel okay? Have some lemonade. You need to replenish your body fluids."
"Beauty will save the world," I said. "Dostoevsky."
She was surprised. "Dostoevsky, yes. You've read it? The Idiot?"
"The Idiot? Sure. Prince Mishkin…kind, innocent, idealistic. He was a revolutionary, in a way."
"Yes, Mishkin is a revolutionary."
She put her hand on my thigh. Her left hand. It felt warm, and light and heavy at the same time.
"Dostoevsky intended Prince Mishkin to be an exemplary figure. The other characters are disarmed by his innocence. Mishkin is a holy fool, he's…he's a bodhisattva."
"Joyful participation in the sorrows of the world."
"Yes!" she said. "Yes, that's it exactly. Prince Mishkin is willfullynaïve. He insists on innocence, he refuses to learn from experience. He's like a court jester in a way. But he's a revolutionary because he refuses to go the way of the world. One innocent and trusting person is more revolutionary than ten thousand Che Guevaras, and does more to make the world a beautiful place than all the politicians with their slogans and their armies and their wars."
I felt her fingers tugging at the tab of my zipper, then her hand closed around me. I went off like the Fritschi Fountain. She held up a gauze pad and I spurted all over it. I thought everything was coming out, kidneys, liver, spleen, everything. It was over in seconds.
"You're left-handed?"
"Yes."
"Can I see you again?"
"You can only give blood once every fifty-six days. Come back in eight weeks."
Donald O'Donovan wrote the first draft of Night Train (Open Books, 2010) on 23 yellow legal pads while homeless in the streets of LA. His other novels include Tarantula Woman, The Sugarhouse and Highway. An optioned screenwriter and voice actor with film and audio book credits, Donald O'Donovan lives mostly in Los Angeles. He can be reached at: donaldo7777@yahoo.com

Find a list of O'Donovan's books here, and order Night Train from Amazon here. See O'Donovan's other pieces on DDA: Inside Big Bluto's Sweatshop and I Live Under Your Wallpaper